Fred Wylie and his rifle
Thursday, 24 May 2018
Most Rotorua residents will be familiar with the memorial in Government Gardens to soldier Fred W. Wylie but they might not know his story or why he was honoured with a memorial. The 26th of May marks the anniversary of his death.
Frederick William Wylie was living in Galatea (76 km South East of Rotorua) when he enlisted with the 4th contingent to fight in the South African War in February 1900. The 3rd and 4th contingents were known as the 'Rough Riders' as they were capable marksmen and riders who had not been formally trained. He took his own horse.
Fred's war began when he arrived in Durban on 5 May 1900 and continued relatively uneventfully until late March 1901 when he was noted for his part in the capture of 9 guns and 150 prisoners at Hartebeestefontein. Fred "charged a gun by himself. It was defended by four of the enemy, two of whom he killed, and then captured the gun."[1] Fred was promoted to Corporal.
The 4th Contingent was returning to New Zealand at the end of May and was allowed to take home one of the two captured 18-pounder guns. Fred however decided to stay on and join the 7th Contingent, in order to be with his friend Henry Corlett. He was again promoted, to Sergeant.
A week or so later, while attempting to capture a Boer outpost at Klipfontein, Fred was shot dead. The bullet travelled through Fred's rifle stock and into his chest.
Here is a newspaper account of his death:[2]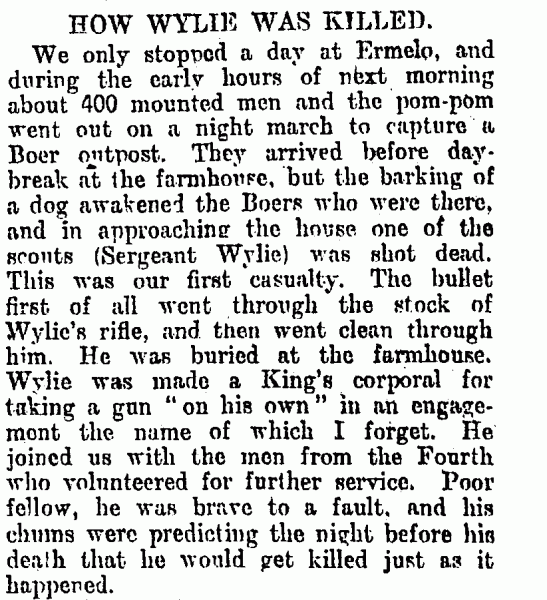 His rifle is in the collection of Rotorua Museum Te Whare Taonga o Te Arawa. It was donated to the Museum by Fred's great-nephew. The rifle has been inscribed with Wylie's name and military number and the bullet hole can clearly be seen in the stock.
After his death many tributes were paid to Fred including that he was "as brave as a lion."[3]
He was buried on the farm where he was killed at Klipfontein, however in the 1960s the graves were relocated to Ermelo Cemetery in Mpumalanga, and his grave is no longer identified.
The memorial in Rotorua was unveiled on Carnival Day in February 1904.
The figure on the memorial is not a physical representation of Fred Wylie, and is similar to the South African War Artillery Memorial in Albert Park, Auckland, both of which were built by Parkinson and Co. of Auckland.[4]
Wylie Street in Glenholme, Rotorua is believed to be named after Fred Wylie.[5]
His memorial appears in thousands of photographs and postcards of Government Gardens and on countless pieces of souvenir ware.
[1] London Gazette, Supplement 27331. 9 July 1901, 4556.
[2] "With the seventh contingent", Evening Star, 22 July, 1901.
[3] Auckland Star, 24 July 1901, 3.
[4] Rotorua South African War Memorial, https://nzhistory.govt.nz/media/photo/rotorua-south-african-war-memorial, (accessed 13 March 2018).
[5] The family owned the first store in Rotorua and were the first European settlers in Galatea. Andrews, Philip, Rotorua Streets, (Rotorua: Bibliophil, 1999), 118.
Thank you to Andrew Monk for his research supplied to the Rotorua Museum and used in this article.
Further information about Wylie's military career can be found here on the Auckland Museum Cenotaph website.

For more blogs visit www.rotoruamuseum.co.nz/blogs