Nearly 100 years after opening the Rotorua Bath House, the building is now complete.

Although it stands as one of New Zealand's most iconic heritage buildings, significant features of the original plans were missing. When the Bath House opened in 1908 the building was only partially constructed. As a result of funding shortages, the extreme northern wing and most of the southern wing were not built.
Now, more than 100 years on, the Rotorua Museum Centennial Project has meant that the Bath House building has been completed to the original specifications proposed by balneologist A.S. Wohlman and architect B.S. Corlett. The completed building now provides 55% more public gallery space and now houses a raft of permanent and changing exhibitions.
The fundraising efforts for the project were driven by Rotorua Museum Centennial Trust. The Trust was established in 2006 and by 2010 had achieved the $22 million funding target required to complete the project.
Stage I of the three stage project, the Viewing Platform, was completed in March 2006.
Stage II, the North Wing extension which now houses the Rotorua Trust Galleries, opened in November 2008.
Stage III, the South Wing, was completed in september 2011.   The new South Wing is named after Rotorua historian Don Stafford, who passed away in 2010.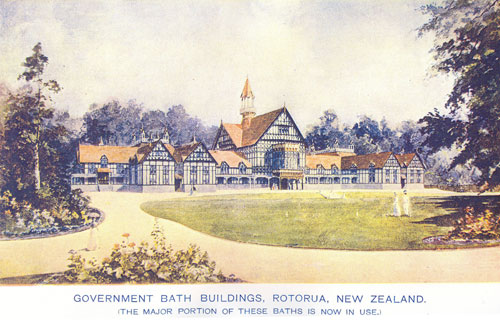 Dr Arthur Stanley Wohlmann's 1902 water colour shows the original vision for the Bath House.
Stage II and  III are now complete.
Click here for Centennial Project news and images