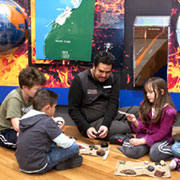 Rotorua Museum has two fulltime educators focused on providing services to teachers and students at primary and secondary levels.
LEOTC
Since 1998 Rotorua Museum has held a contract with the Ministry of Education to offer 'Learning Experiences Outside The Classroom' (LEOTC), to students of all ages. Our popular service offers many interactive, curriculum-linked programmes based upon the museum's permanent and changing exhibitions and the surrounding environment.
The programmes cover science, social studies, art, history, geography, and tourism. These education programmes can be tailored to suit your student's specific learning outcomes.
Why bring your class to Rotorua Museum?
Individual tailored lessons to suit your students specific learning outcomes
Lessons for Primary, Intermediate and Secondary students
A comprehensive programme delivered by competent and experienced educators
Fun, interactive, hands on experiences for your students
A unique learning environment equipped with modern learning resources, equipment (IT) and materials
Quality pre and post visit resources available to teachers
Free programmes for all Rotorua schools
Rotorua Museum Education Service is available to all schools throughout the school year.