Volunteer Guide Programme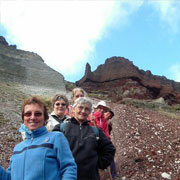 Our friendly and informative volunteer guides help make a museum visit interesting, instructive and entertaining.
Rotorua Museum volunteer guides engage the public, interpreting the stories of our area. They also serve as liaisons between the Museum and our visitors.
The Museum provides continuing education, access to resources such as the Museum library and photo archives, and other special privileges for our volunteer guides.
The benefits of becoming a volunteer guide include:
A comprehensive training programme
Invitations to gallery talks and other continuing education events
A monthly volunteer guide newsletter
Discounts on purchases at the Museum shop & Bathhouse Café
Invitations to selected museum receptions and openings
What does the Museum look for in a prospective volunteer guide?
Although no previous museum or teaching experience is required, we look for people with:
A friendly, welcoming attitude
A willingness to learn
A professional manner
Ability to speak in public
Flexibility
Our volunteer guides help the Museum project a warm, welcoming environment by considering the visiting public as their personal guests.
Our volunteer guides are expected to: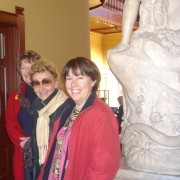 Treat staff and visitors with friendliness and courtesy
Keep abreast of information on all exhibitions
Communicate clearly and effectively
Be committed, punctual and reliable
Demonstrate a concern for the welfare of the organisation and its operation
Refrain from voicing personal opinions on controversial subjects
Demonstrate emotional maturity and the ability to work with groups
Exhibit good taste in choice of language and anecdotes
Exhibit good sense in enforcing house rules
When is the next volunteer guide training programme?
The date for the next training course has not yet been set but if you would like to enrol please contact Ann Somerville.  To email Julie click here or you can phone her on 07 351 7823, 12 noon to 4pm Monday to Friday.
How long does the training take?
The training takes approximately three months and includes a two hour session once a week. Most of the sessions are held in the museum, although there are also field trips off-site.
What sort of time commitment is expected of me after training?
You will be asked to be available to conduct one tour per week for one year. After your training, you'll also be expected to attend continuing education meetings from time to time.
How large are the groups I will be leading?
The tour groups at Rotorua Museum are kept to manageable sizes and are no larger than 15 people. If larger groups request tours we divide the group among two or more volunteer guides.
How can I enroll in the volunteer guide programme?
While initial acceptance of your application is subject to certain criteria being met, every effort is made to accommodate individual interests, strengths and busy lifestyles.
For more information about the volunteer guide training programme contact Ann Somerville at Rotorua Museum. To email Julie click here or you can phone her on 07 351 7823, 12 noon to 4pm Monday ot Friday.