Venues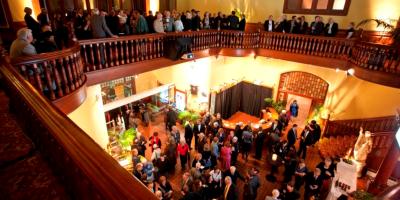 Capacities
The Museum Foyer is available for hire for all types of events. Made up of two levels, the Lower Foyer and the Mezzanine, this venue can host intimate dinners for 10, seated banquets for 160, and grand cocktail functions for 300 guests.
The Mezzanine level is also available for unique lunches – offering a change of venue from the conference location, or as part of a partner's programme including a tour of the Museum.
Capacities
Seated Dinner
60 in Lower Foyer
100 in Mezzanine
160 Lower Foyer and Mezzanine
Cocktails
180 in Lower Foyer
150 in Mezzanine
300 in Lower Foyer and Mezzanine
Museum Foyer
With its imposing presence, elegant gables and mullioned windows, the Museum will create lasting memories for your guests.
The Museum Foyer was the focal point for social occasions and features a spectacular high ceiling, detailed plaster mouldings, finely crafted native timber fixtures and a stunning outlook over Government Gardens. Split over two levels the Foyer has outstanding acoustics and is truly brought to life by vocal or instrumental entertainment.
When you hire the Museum Foyer for your evening function you get the use of both the Lower Foyer and the Mezzanine level.
To find out more about holding functions at Rotorua Museum, or to make a booking contact:
Kathy Nicholls
EVENT COORDINATOR
07 351 8456
Email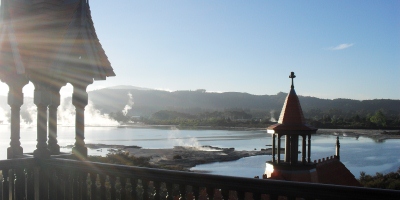 Other Spaces
There are several unique, intimate spaces within Rotorua Museum that can offer special dining experiences for your guests. The Viewing Platform is available for small cocktail functions or early morning breakfasts while the sun rises over Lake Rotorua. Also the back covered verandah and the back section of the Museum Foyer offer spectacular settings.
Exhibition viewings can be included in your evening function, either as part of a guided tour or for guests to visit in their own time. Unfortunately food and drink are not allowed in any gallery spaces.
Check out our gallery of function images showcases venues around the Museum.