Te Arawa legacy now inspiring new generations of weavers
Friday, 10 November 2017
A book celebrating the legacy of Te Arawa master-weaver Emily Rangitiaria Schuster OBE, QSM (1927-1997) has just been published. Te Ringa Rehe – The Legacy of Emily Schuster commemorates 20 years since Emily's passing and recognises the important role she played in the revitalisation and conservation of Māori weaving over her lifetime.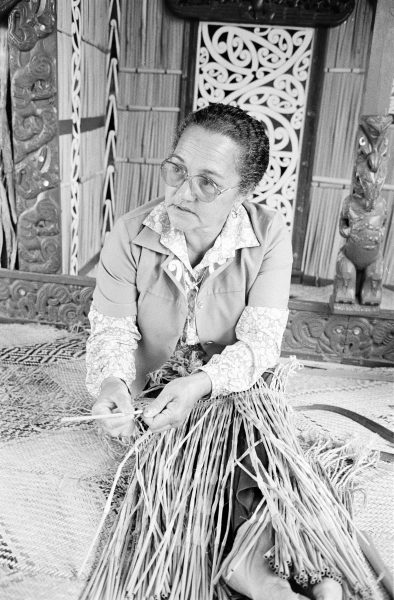 Rotorua Museum Te Whare Taonga o Te Arawa Lead Exhibition Curator, Ane Tonga, worked in collaboration with highly skilled weavers Christina Hurihia Wirihana, Edna Pahewa and John Turi-Tiakitai alongside the Schuster family to produce the book.
"It's been an honour to work with the Schuster whānau to pay homage to Te Arawa master-weaver Emily Schuster. This is the first publication of its kind and is a substantial addition to the scholarship of weaving and the practice of such a renowned weaver", says Tonga.
The publication enables new generations to learn about one of New Zealand's finest weavers. Writers include James Schuster, Kahutoi Te Kanawa and Megan Tamati-Quennell.
James Schuster, son of Emily, talks about his mother and the importance of this publication in continuing her work.
"These written accounts about Mum are precious especially for those mokopuna tuarua, mokopuna tuatorua, and future descendants who were born after she died," says James.
Born in Auckland and raised in Whakarewarewa, Rotorua, Emily grew up with expert carvers and weavers around her. She learnt the craft from her elders and also followed in the family footsteps to guide and perform at Whakarewarewa Village.
Somehow, as a busy working mother of six, she was also on many committees including the Women's Health League, with which she was involved for 60 years.
Returning to the workforce in 1967 she was awarded the position of Weaving Tutor at the New Zealand Māori Arts and Crafts Institute. Emily travelled the world sharing the mātauranga of weaving and working with other iwi to keep the traditional art form alive.
Her years of service to the community and to weaving was acknowledged in 1983 when
she was awarded the Queen's Service Medal (QSM).
Bringing weavers together and forming firstly Aotearoa Moana-nui-a-Kiwa Weavers and later Te Roopu Raranga Whatu o Aotearoa were among her greatest achievements and she chaired both committees until her death in 1997. The vital role she played was recognised in 1994 when Emily was made a member of the Order of the British Empire (OBE)
The book about Emily was possible due to the generous sponsorship from Creative New Zealand and support from Te Puia and the New Zealand Māori Arts and Crafts Institute.
To purchase a copy of Te Ringa Rehe – The Legacy of Emily Schuster for $10 please contact Rotorua Museum by phone 07 350 1814 or email rotorua.museum@rotorualc.nz
ENDS
For further information:
Kathy Nicholls, Communications & Marketing Coordinator,
Arts & Culture Division, Rotorua Lakes Council
P: 07 351 7831 C: 0276 741 898 E: Kathy.nicholls@rotorualc.nz
Image credit: Brian Brake. Craft New Zealand – Emily Schuster and Donna Waiariki. 1980s. Photographic gelatin, silver, black-and-white film, roll film Museum of New Zealand Te Papa Tongarewa. Gift of Mr Raymond Wai-Man Lau, 2001. (E.005734/23)

For more blogs visit www.rotoruamuseum.co.nz/blogs