Rotorua Children's Weekend shaping up to be bigger than ever
Tuesday, 27 February 2018
With more locations and activities on offer, this year's Rotorua Children's Weekend is shaping up to be the biggest yet with two days of free fun events planned celebrating national Children's Day.
The event, hosted by Council together with various organisations and community groups, begins this Saturday (3 March) with a range of activities taking place around central Rotorua between 10am and 3pm. Children of all ages can experience diverse cultures from around the world and be in to win prizes by collecting stamps for their Children's Weekend "passports".
The passports can be picked up from several venues (see listed below) and passport holders will receive a stamp for every activity they participate in.
Families with more than three stamps in their passport will go into a draw to win a prize pool valued at more than $3000, including passes and vouchers from a range of Rotorua attractions alongside art and gift packs.
The fun will continue on Sunday (4 March) from 1.30pm to 4.30pm at the Redwoods Children's Day in the Redwood Forest with nature-based activities such as forest games, storytelling, log dig, bucket fun, soundscapes, clay, paint, Taiko drumming, hut building, gymnastics, young artists alfresco art exhibition and the opportunity to be a star on the stage!
The talented Travelling Tuataras will bring their own special brand of magic to the forest with interactive stories and songs.
The City Ride bus (route 3) takes people directly to the end of Long Mile Road from where people can wander through the Mokopuna Track to the clearing behind the Redwoods iSite where the activities will be held.
Families are encouraged to bring along a picnic and share lots of laughs with the little people in our lives and treasure the time spent together.
Last year the weekend of celebrations were a huge success with more than 3500 people attending and it is this success that has attracted several new organisations to take part in the event.
BayTrust Rescue Helicopter Base Manager, Ben Fry, saw it as a great opportunity to combine the annual Rescue Helicopter Open Day with this year's Children's Weekend celebrations to reach more people.
"We are looking forward to being part of this event at the Village Green on Saturday 3 March. As well as the helicopter we will have a range of other emergency services on show and heaps of fun activities for all the family" says Fry.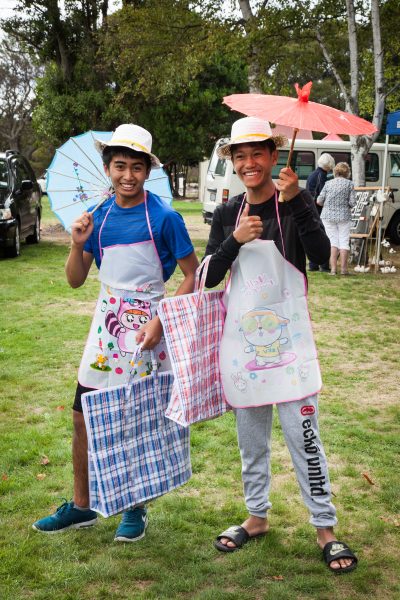 Day 1 (Saturday 3 March) – Around the World venues:
Rotorua Arts Village with English Language Partners and Multicultural Rotorua – Celebrate Peru! Create a Peruvian crown to wear for the day and listen to traditional South American music. Have fun in the photo booth with a wide range of props. Location: Rotorua Arts Village (inside).
Philippines Club of Rotorua – Celebrate the Philippines! Have fun participating in traditional Filipino games and Filipino dancing. Location: Rotorua Arts Village (outside)
Children's Art House – Celebrate Native America! Make a cool tee pee to take home and enjoy Native American music. Location: Children's Art House
Rotorua Museum – Celebrate France! Learn fun French games including Escargot (Snail Hop-Scotch), Jeu de Puame (Palm Tennis) and Bilboquet (Cup and Ball). Location: Te Rūnanga Tea House
Rotorua Musical Theatre – Celebrate England! Have some supercalifragilistic fun with the team from Mary Poppins – The Broadway Musical and take part in a cool colouring activity. Location: Band Rotunda
Te Aka Mauri Rotorua Library – Celebrate Aotearoa! Learn the Māori art of weaving and make something to wear. Location: Te Aka Mauri Rotorua Library (2nd Floor, Haupapa Street)
BayTrust Rescue Helicopter – Celebrate our Emergency Services! Learn more about our fantastic local Rescue Helicopter and have a go at some fun activities. Location: Rotorua Village Green
Rotorua Aquatic Centre – Celebrate Summer! Have lots of fun with water activities available for all the family. Free child entry (10am – 6pm) with a paying guardian or adult entry. Location: Rotorua Aquatic Centre, Tarewa Road. ​
Both days of events will be on rain or shine. For more information go to rotorualakescouncil.nz/childrensweekend
Huge thanks to all the supporting organisations who have donated items towards the prize draw: Waimangu Volcanic Valley, The Heat 99.1 FM, Redwoods Tree Walk, Rotorua International Stadium and the Vodafone Warriors, Rotorua Aquatic Centre, BayTrust Rescue Helicopter, Te Puia, Rotorua Musical Theatre, Skyline Skyrides, Reading Cinema and Motion Entertainment.
ENDS
For further information:
Kathy Nicholls, Communications & Marketing Coordinator,
Arts & Culture Division, Rotorua Lakes Council
P: 07 351 7831 C: 0276 741 898 E: Kathy.nicholls@rotorualc.nz
Image credits: Rotorua Children's Weekend 2017. Photographs by Altitude Photography.

For more blogs visit www.rotoruamuseum.co.nz/blogs