Who are the Maori People
Sometime prior to 800AD, New Zealand was discovered and settled by Polynesian people who travelled on epic journeys from the group of islands known today as East Polynesia.
They were the descendants of an ancient voyaging culture which originated in South East Asia some four thousand years ago.
Maui, Kiwa, Kupe and Ngahue reached out to all corners of the Pacific. The Polynesian ancestors were expert at travelling vast distances, even reaching South America.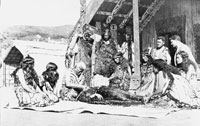 Systematic migration and colonisation then took place over a number of generations until approximately the fourteenth century. Contact with their Polynesian homelands (Hawaiki) ceased as the people settled into the new environment and found uses for the rich natural resources. They developed into numerous territorial and tribal groups under common ancestors. TE ARAWA is one such group.
After the arrival of European colonists the many different tribal groups across New Zealand became collectively known as "The Maori People".
Who are Te Arawa
Some 20 generations ago a great leader named Houmaitawhiti lived in the Polynesian homelands called Hawaiki. Saddened by a long history of events such as warfare and the lack of resources that resulted, Houmaitawhiti decided that it was time to send his people in search of new lands.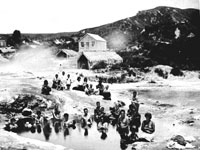 His eldest son Tamatekapua along with the powerful tohunga (navigator-priest) Ngatoroirangi and other members of the tribe set out on a 40 metre long twin-hulled sailing vessel (waka) in search for a new homeland. Their ageing leader Houmaitawhiti said goodbye to his people as he was too old to travel. The waka followed an old pathway using stars ocean currents and wave patterns that took them to the south-west Pacific.
When the waka arrived in New Zealand its passengers selected Maketu in the Bay of Plenty as its final resting place. The Arawa tribe take its name from this great ancestral canoe.
Ihenga, the grandson of Tamatekapua, discovered the Rotorua lakes region and is responsible for many of the place names we still use today. Ngatoroirangi, explored the volcanic plateau and climbed the great mountain of Tongariro. A new Arawa leader called Rangitihi emerged four generations later. He and his eight children and their extended families (hapu) moved to the Rotorua region to live. In time the descendants of the eight children formed their own tribes and became known as "Nga pu manawa e waru o Te Arawa" – "The eight beating hearts of Te Arawa".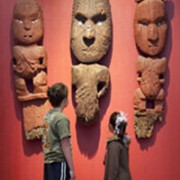 The proverb Te Arawa katoa mai I Maketu ki Tongariro (the bow of Te Arawa rests at Maketu and the stern at Tongariro) defines the tribal boundaries of the canoe region.
The taonga (treasures) on view in the Te Arawa gallery were created by, belonged to or are a record of Te Arawa ancestors. They include historic carvings, weaponry, weaving and treasured photographs.