Falcon chicks make New Zealand history
Friday, 27 November 2015
In a first for New Zealand, a kārearea (New Zealand falcon) chick has hatched as a result of a pairing between two falcons released from Rotorua Museum as part of the award-winning urban release partnership with Wingspan. Hatupatu, a two year old male from the first urban release, and Maia, a one year old female from the second release, have become a mating pair and their first eggs have just hatched in a secret location in the Whakarewarewa Forest.
"This was always the vision and it's incredibly exciting," said Wingspan Director, Debbie Stewart. "Through the urban release falcon project we wanted to re-establish a breeding pair of falcons back in the city – we just weren't expecting it to happen so quickly" she said.
At less than 12 months old Maia is the youngest known of any of the falcons released by Wingspan to have bred.
The scrape, as the nest is known, is on the ground, making the kārearea chicks extremely vulnerable to predators. Visitors to Whakarewarewa Forest are asked to be vigilant, keep dogs on a leash and keep away from the breeding area. People who inadvertently wander too close to the nest may experience falcons swooping at them to protect their young.
"Timberlands are a long-time supporter of Wingspan," said Ms Stewart. "We have been monitoring falcons in pine plantations, including the Kaingaroa Forest, for over 20 years. Hatupatu and Maia have made their scrape within an area scheduled for forestry operations and Timberlands have very generously moved their operations to another part of the forest until the chicks have started to fly."
It is thanks to the incredible monitoring by our extensive team of volunteers, that we have been able to keep a close eye on the falcon parents and their new hatchlings. Anyone interested in volunteering can contact Julie Parsons on 07 351 7823 or email julie.parsons@rotorualc.nz
The Rotorua Museum Wingspan partnership project has so far seen seven falcons released into Rotorua city since 2013. Of the seven falcons released three have survived so far. This survival rate of more than 40% is significantly better than in the wild where 75% of kārearea die before reaching 12 months old.
Rotorua Museum has a special display, called On the Wing, about kārearea, the urban release project, and the work Wingspan does. Wingspan have kārearea flying displays daily at 2pm, from their base in Paradise Valley Road, Rotorua.
ENDS
Entry to the On the Wing exhibition is included in Rotorua Museum's admission price. Adults $20, seniors $18, children $8. Entry for Rotorua residents is free of charge with relevant ID.
Entry to Wingspan: Adults $25, seniors $20, children $10.
This urban release project is permitted by the Department of Conservation.
For further information please contact:
Debbie Stewart, Wingspan: P. 07 357 4469 | E. wingspan@xtra.co.nz
Joanna Doherty, Rotorua Museum:  P. 07 351 7831 | M: 027 272 5768 | E: joanna.doherty@rotorualc.nz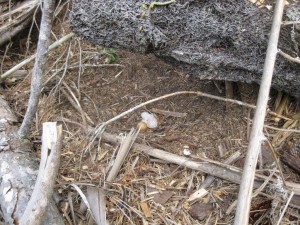 Image credit: New falcon chick, Whakarewarewa Forest, 10 November 2015. Photograph by Noel Hyde

For more blogs visit www.rotoruamuseum.co.nz/blogs