Viewing Platform
History of the Viewing Platform
When the Bath House opened as a therapeutic spa in 1908 the building was only partially completed. While the Rooftop Viewing Platform was in place when the building opened, it was removed sometime in the late 1930s or early 1940s, probably for safety reasons.
In 2006 the Rotorua Museum Centennial Trust was established to raise funds for the completion of the Bath House building to its original design. Stage one of this three-phase project was completed in 2006 and saw the Rooftop Viewing Platform reinstated on the roof of the north wing.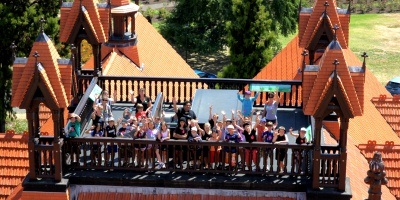 A Roof with a View
The Bath House Building is a Category I heritage building (the highest rating in New Zealand). It is one of the few heritage buildings in New Zealand that you can explore from the basement, through the attic and up onto the roof.
Once at the top there are amazing views of Lake Rotorua, Government Gardens and Sulphur Point.