The Art of Remembering - Te Pū o Mahara
Finalist student WW1 Art Competition
Until:
Saturday, 26 May 2018
Venue:
The Arts Village 1240 Hinemaru Street Rotorua
Price: Free
Highlighting the exceptional talent of local art students, this exhibition hosted by Rotorua Museum showcases the winners and finalists from the The Art of Remembering - Te Pū o Mahara competition. The exhibition of 23 works will be on display at The Arts
Rotorua high school students were tasked with creating visual art based on the story of a Rotorua person who served in the Great War. The students selected someone from a list of people who had been researched and was be asked to interpret an aspect of their story through one of seven visual art mediums – painting, print making, sculpture, moving image, photography, digital or mixed media.

Leroy Nurkka (Rotorua Lakes High School, Year 13) won over 80 other entries to win the $10,000 scholarship as Supreme Winner with his painting of Christabel McFarlane, a nurse who served in the Great War.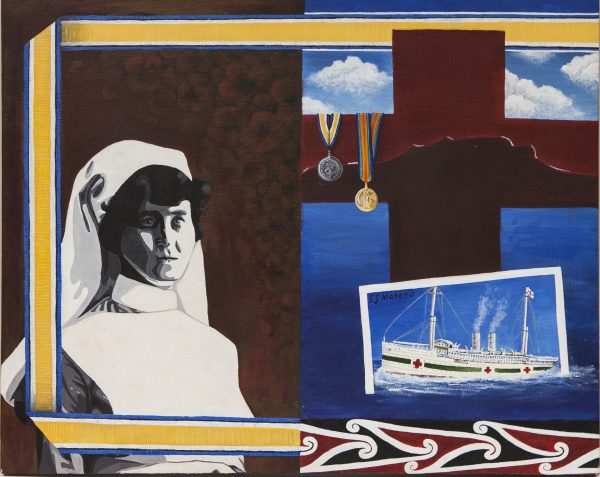 "I crafted a composition highlighting Christabel's war involvement whilst subtly symbolising the war and her life. The sombre tonal portrait adds a dynamic; framed by poppies which symbolise remembrance. The cross represents nursing, with a blood curtain alluding to war nurse horrors. The ship is the hospital ship Christabel worked on, also symbolising her family's migration to New Zealand. The puhoro represents water, and the cutline of Mokoia Island represents Christabel's Rotorua residence", explains Mr Nurkka.

Three Excellence in Art Awards were also awarded by the judges to entries they felt were of exceptional standard.

The first was awarded to Jared Lewis (Western Heights High School, Year 13) who used digital media to tell the story of Cecil Goodson, a driver for New Zealand Field Artillery.

Two students from Rotorua Girls High School were also awarded Excellence in Art Awards. Animata Te Runa Tukiwaho (Year 10, Photography) and Marine Rose Anne Ocangas (Year 13, Digital Media) who created artworks based on Eric Cobledick who was a Private in the Wellington Infantry Regiment.

Ngāti Whakaue Education Endowment Trust generously provided the scholarship prizes along with a trip for the Supreme Winner, Leroy Nurkka, to Wellington with his art teacher to visit The Scale of Our War exhibition at Te Papa and a tour of Weta Workshop. Each of the six local high schools that participated (Western Heights High School, Rotorua Girls High School, Rotorua Boys High School, Te Kura Kaupapa o te Ruamata, Rotorua Lakes High School and Reporoa College) will each receive a $1,000 voucher from National Art Supplies.

The competition is possible thanks to the generous support of the Ngāti Whakaue Education Endowment Trust which sponsored the prizes. Further support was provided by Rotorua Library Te Aka Mauri, Rotorua WW1 Committee and WW1 researcher Andrew Monk.

The Art of Remembering - Te Pū o Mahara will be on display at The Arts Village (1240 Hinemaru Street, Rotorua) from 21 April until 26 May 2018. The Arts Village opening hours are: Mon – Fri: 9am- 4.30pm, Sat: 10am – 4pm, Closed: Sun, ANZAC Day (25 April): 10am – 2pm.

For further information please contact Rotorua Museum, phone 07 350 1814 or email rotorua.museum@rotorualc.nz