New Zealand falcons – kārearea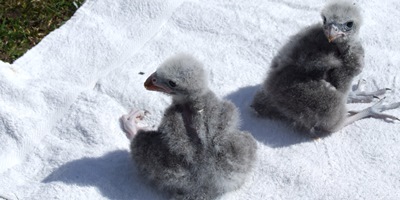 Endangered Kārearea
In November 2013 Rotorua Museum and Wingspan National Bird of Prey Centre formed a partnership to help secure the future of kārearea, the New Zealand falcon, by releasing them into Rotorua's Government Gardens – the first urban release of a threatened species in New Zealand. A second release of two female chicks was made in early January 2015 and a third clutch of one male and one female were released in mid-October 2015.
A male from the first release and a female from the second set up home amidst the mountain biking trails of the Whakarewarewa forest and went on to produce and rear 6 chicks to maturity. Last breeding season volunteers were able to observe three pair of nesting falcons in the forest.
If you find yourself the target of dive bombing falcons, please avoid the area in the future and let us know where the incident took place so that we can take steps to protect the nesting falcons.
The kārearea is found only in Aotearoa New Zealand and is a protected species at risk of extinction. Falcon numbers are declining as a result of predation by introduced pests, habitat loss and human threats such as deliberate shooting. This urban release project is supported by the Department of Conservation.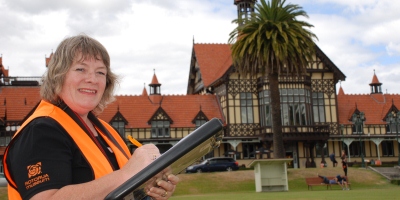 Be Involved
Museum staff, Wingspan staff and volunteers are still monitoring the falcons, reporting sightings and the activities of the birds.
Once Rotorua Museum re-opens we look forward to continuing this partnership to release falcons into the daily environment of New Zealanders.
If you would like to volunteer for this exciting conservation project please contact:
Julie Parsons
07 351 7823
Email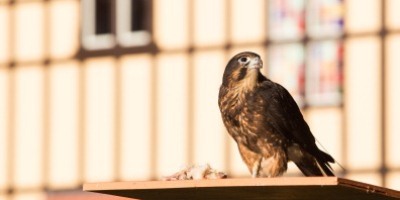 On the Wing Package
When visiting Rotorua Government Gardens, look out for Hatupatu, the mature male kārearea (New Zealand falcon) who still visits the feed tray under the trees beside Waitukei sculpture.
Wingspan National Bird of Prey Centre has moved locations and will be re-opening their centre soon. There you will be able to learn more about the endangered kārearea and New Zealand's other birds of prey. Their fantastic daily flying display is not to be missed. Check their website and Facebook page to find out more.