New Zealand falcons – kārearea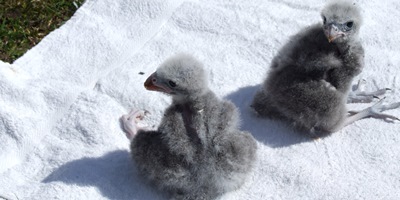 Endangered Kārearea
In November 2013 Rotorua Museum and Wingspan National Bird of Prey Centre formed a partnership to help secure the future of kārearea, the New Zealand falcon, by releasing them into Rotorua's Government Gardens – the first urban release of a threatened species in New Zealand. A second release of two female chicks was made in early January 2015 and a third clutch of chicks will be placed in the hack box on the roof of Rotorua Museum on Friday 25 September 2015, for release in mid-October 2015.
The kārearea is found only in Aotearoa New Zealand and is a protected species at risk of extinction. Falcon numbers are declining as a result of predation by introduced pests, habitat loss and human threats such as deliberate shooting. This urban release project is supported by the Department of Conservation.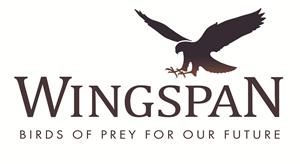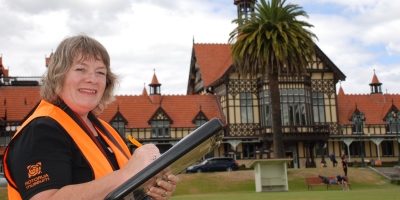 Be Involved
Museum staff, Wingspan staff and volunteers are actively monitoring the young falcons, reporting sightings and the activities of the birds.
If you would like to volunteer for this exciting conservation project please contact:
Julie Parsons
07 351 7823
Email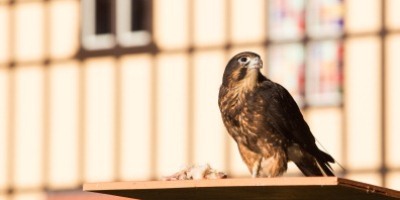 On the Wing Package
Visit Rotorua Museum, look out for the young kārearea (New Zealand falcons) in Government Gardens, and view our On the Wing display.
Visit Wingspan National Bird of Prey Centre to learn more about the endangered kārearea and New Zealand's other birds of prey. Don't miss the fantastic live show with New Zealand falcons at 1:30pm daily.
On the Wing Package
Adults: $40 (save $5)
Children (5 – 15 years): $17 (save $1)
Seniors (65+ years): $35 (save $3)
Unders 5s: free
Wingspan Only
Adults: $25
Children (5 – 15 years): $10
Seniors (65+ years): $20
Unders 5s: free