Featured Collection Item – WWI Victory Medal Awarded to Ohinemutu man
Thursday, 10 November 2016
When the Rotorua RSA closed its doors in 2015, there were real fears many items in the collection would end up outside Rotorua or worse yet, outside the country.
RECT to the Rescue
Thanks to Rotorua Energy Charitable Trust (RECT) three hundred pieces of valuable memorabilia will now stay in Rotorua, ensuring local access for future generations.
RECT purchased the collection and donated it to Rotorua Museum for safe keeping and display. As one of the oldest in the country, the Rotorua RSA collection is extensive to say the least and in the process of purchase, Rotorua Museum, RECT and RSA spent a considerable amount of time in August 2015 selecting items based on their relevance to Rotorua.
The result is a three hundred piece collection that is deeply connected to the community.
Included are photographs, artwork, uniforms, medals, trophies and plaques, with each piece of the collection holding a story linked to the people of this area. However some stories are clearer than others.
Help us understand and celebrate a local, awarded soldier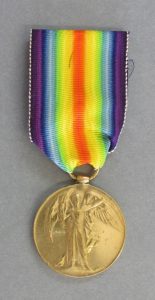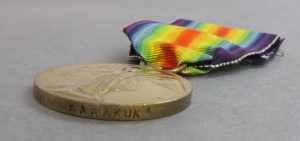 One of the pieces of interest to our collection team, who are in the process of researching and documenting the RSA collection, is a Victory Medal awarded to Hamiora Parakuka. This Victory Medal is one of a few in the RSA collection awarded to a local person.
Before an item can be displayed at the Museum a lengthy research process is undertaken and with little to go on, there are pieces in the collection that due to their very nature i.e. an award medal, are significant, yet we don't know much about the recipient.
Rotorua Museum would like to find more information about the man himself – Hamiora Parakuka. He was listed as a boat builder in the Nominal rolls for the Maori Contingent 21st reinforcements. His next of kin was his wife Aowhinga Parakuka who was from Ohinemutu.
Caring for a collection item can at times be like piecing a puzzle back together, but we're often missing the pieces.
With bits of information gathered from cenotaph databases and other online sources, our collection team would like to connect the medal to the man after the war and allow his family to learn of, and celebrate his war time achievement.
Contact Rosemary Deane, Collection curator, Social History on 07 351 7842 or Rosemary.Deane@rotorualc.nz

For more blogs visit www.rotoruamuseum.co.nz/blogs