International Volunteers Day
Wednesday, 5 December 2018
The 5th of December is Volunteers Day and we would like to mark the occasion by recognising a 3-year project recently completed by some of our Museum's volunteers.
Although the Museum has been closed, the work of the Collections team continues much as normal at the store which houses the collection. The store is a secure, pest-free, climate controlled space in a part of Rotorua where the risk of exposure to hydrogen sulphide is minimal.
The project started back in May 2015 but since October 2017 there has been a team of volunteers working weekly on a project to make covers for the hanging textile collection, which amounts to about 800 garments.
These garments originally had calico covers which just covered the shoulders. They needed full length covers made from an inert material called Tyvek and the old calico padded hangers needed to be replaced with new Tyvek covered padded hangers with stainless steel hooks.
A small team had been working on the project for a while but it was obvious it was going to take a number of years to complete. So in August 2017, a recruitment drive was undertaken in order to speed things up. It started with a get-together at the Te Rūnanga Tea Rooms to explain the project and find interested volunteers. A group of keen helpers was recruited, some to make padded hangers, some to do the measuring and cutting and others to sew and/or overlock the covers. We ended up with a core group of 11 volunteers; the hanger-makers working from home and the others coming in to cut, sew and overlock on Tuesday mornings and Wednesday afternoons.
The Tyvek used for this project is stable and won't degrade or damage the garments.
Some of the Tyvek was funded by the Friends of the Museum through a Helping Hands Grant from National Services Te Paerangi (Te Papa). We would like to thank them for their assistance.
In October 2018 the volunteer team were finalists in the Bay of Plenty Trustpower Community Awards.
After two years of hard graft at an estimated 30 hours per week, the project has come to an end. At the end of November this year the final cover was sewn and the Textile store now looks like this: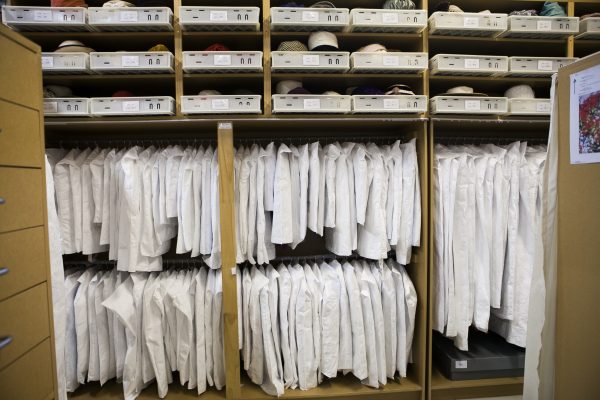 Not as interesting as before but the new covers will provide much better protection from dust and light and make sure the textiles are preserved for a very long time.
Most of the volunteer team enjoyed an afternoon tea on 28 November to mark the end of the project.

We would like to thank all the volunteers who helped us with this project over the three year period as well as all the other museum volunteers who help us with feeding the karearea, guiding, events and activities.

For more blogs visit www.rotoruamuseum.co.nz/blogs