Eric and Joan – A Museum Love Story
Thursday, 14 February 2019
Down in the depths of the Museum's northern wing is the Mud Bath Basement where lies an old red high-heeled shoe and a nearby sign that reads :
"Shadowy lovers from the past sneaked under the building and proclaimed their affection in the graffiti on the right….." This sign points out a spot-lit love heart surrounding the names Eric and Joan.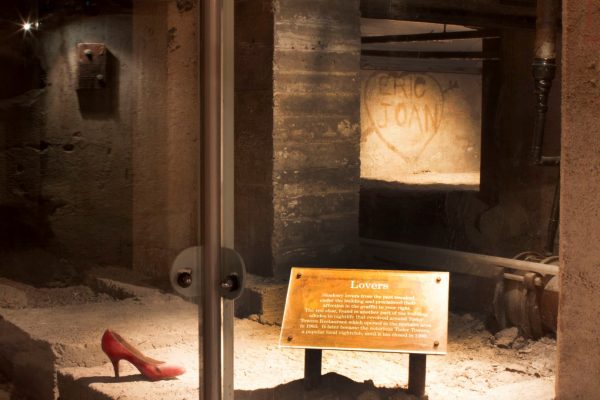 What you may not know is that Joan's name is also written in large red letters on a few pillars and on the side of a work table in a hidden walled-off room located through a trap door just under what was formerly known as Dr Wohlmann's office. In the 1950's when Eric was working as an electrician for the Ministry of Works, he proclaimed his love for Joan by painting their names. Little did he know that we would one day look at his "art" as a historical artifact that places them forever as part of the history of the Bath House building.
I wanted to know more. How did they meet? Did they live happily ever after? So I tracked down Eric's nephew Ray, who informed me that "yes, Eric painted the love heart" while he was courting Joan. Ray told me that they had married and that he had attended their wedding. He also told me that Joan's brother Syd was still around. I found Syd but had to wait a week to be able to talk to him. The suspense was killing me. I had looked at that graffiti for years and wondered what their story was (and I wanted the romantic love story for this Valentine's Day blog!).
One week later I found out from Syd that Eric and Joan met at a party in Rotorua. Not really the Valentine's Day love story I was looking for, but Syd did tell me a few slices of information that I found very interesting.
Eric was indeed working in the basement reconstructing the wiring around the time that the building had fallen into a bit of a dilapidated state. In March 1951 the Health Department had suggested that the Council assumed control of the main Bath Building.(1) There was not much further progress until the Rotorua Borough Council took over in 1963 except for an exterior "face-lift" in 1958 and in September 1952 "when the old building was floodlit during a conference of power supply authorities" (2). I wonder if Eric had anything to do with that?
It seems that Eric Adolph and his family were also known for a few other interesting additions to our district's history. His father ran a shop called Adolph Cycles during this period and was responsible for some pretty 'hard case' bicycles made out of old metal bed ends and other bits and pieces. Eric would often ride a nine foot tall unicycle in the New Year parades.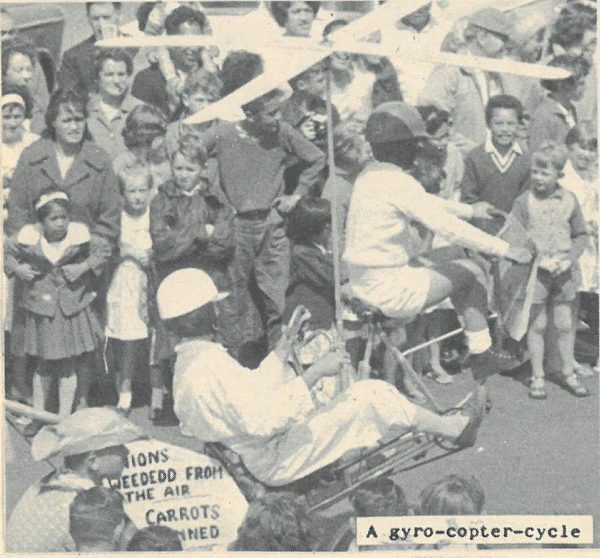 Eric's brother Harold was an inventor, a motorcycle engineer and a stunt man who infamously used a TV translator to bring television (Channel 6) to Rotorua (illegally) in 1962. The translator was on the top of the Public Works Department Lavatory (3) and was responsible for bringing television to the Rotorua district and beyond when the partnership of Cobbe and Adolph was formed in 1964.
Copy articles on Cobbe & Adolph, C 1962, Noel Holmes. Rotorua Museum Te Whare Taonga o Te Arawa (2010.80.24)
As for Eric and Joan's love story, alas, it was not meant to be. Joan and Eric parted ways in the late sixties but they will live on forever in the history of the Bath House building and in a few more memories and hearts too I imagine.
If there is anyone who knew Eric and Joan and could add a little more please feel free contact me natascha.hartzuiker@rotorualc.nz
By Natascha Hartzuiker
(1) D M Stafford ,A decade of development , 1988, pg 288
(2) D M Stafford ,A decade of development , 1988, pg 288
(3) http://rotorua.kete.net.nz/rotorua_biographies/topics/show/522-rotorua-notable-people-and-local-heroes-a-to-f

For more blogs visit www.rotoruamuseum.co.nz/blogs