The Season's Greetings – Christmas Cards, Postcards and Archie & Ruby
Monday, 9 December 2019
Do you still send Christmas cards in the post? Or do you send a mass Christmas greeting to all of your friends on social media? I have to admit that I don't do either. I used to send cards and letters to one or two pen pals when I was younger and would receive a card or letter in return. I also kept these cards and letters and look back through them occasionally and wonder what these pen pals are up to now.
The Rotorua Museum houses a small collection of Christmas cards and postcards. Hidden amongst them are a few gems and I don't just mean the beautiful images on the front, but the messages on the inside and on the reverse. Some of these messages truly capture a snapshot of an individual's thought or experience within their era.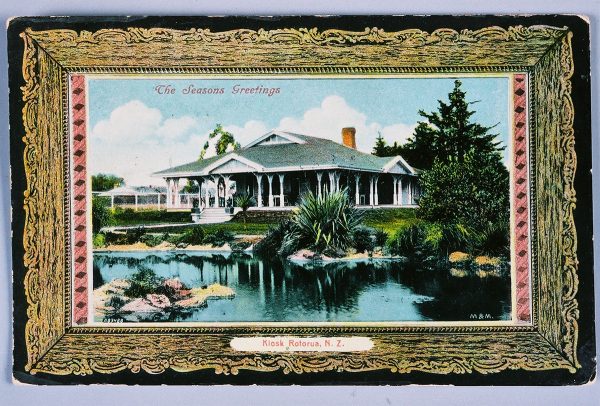 In this souvenir post card dated "Saturday Afternoon", Maude squeezed quite a lot of information into one little postcard, including, the "nearly roasted alive" weather, a farewell concert, an afternoon tea for her friend Bernie who is getting married and about her "sailor boy". I'm still undecided if she is talking about her actual sailor boy showing up with another "little tart" or that she is talking about the picture on the front.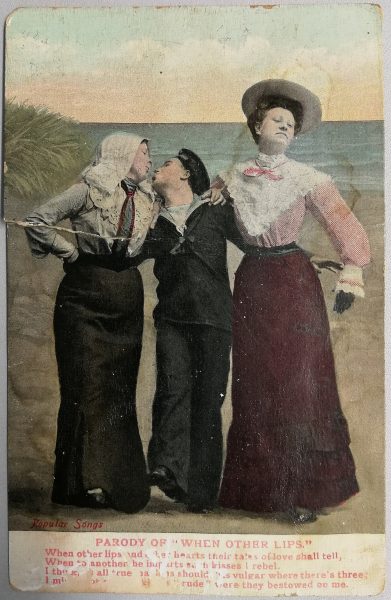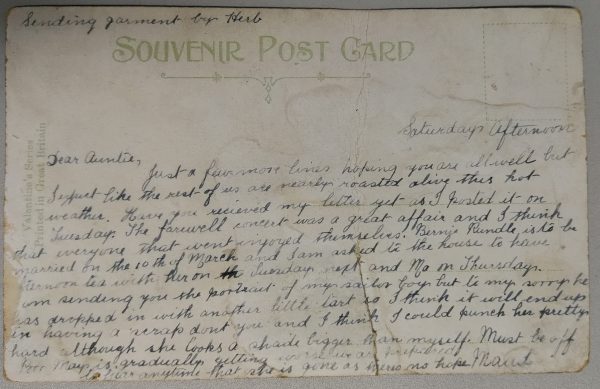 In the early 1900s very few houses had telephones but the post was delivered twice a day. You could send a postcard in the morning to tell someone that you would be there later on that same day. So the postie had quite a busy and important job to do.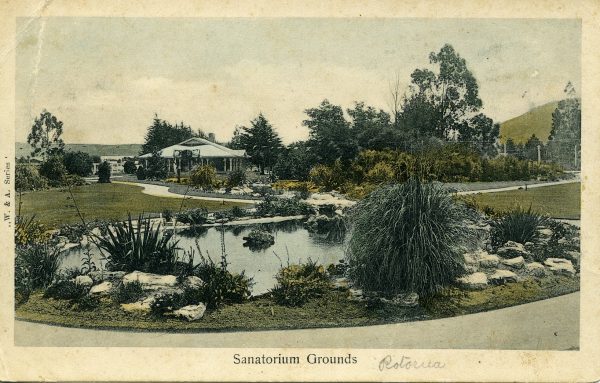 Sandi Black, an archivist from the Whanganui Regional Museum discovered a true gem while looking through their range of Christmas postcards. They discovered about 50 post cards addressed to and from a couple called Archie and Ruby. They sent post cards to each other dated from the 2nd of March 1913 to the 1st of December 1916. This series of postcards between Ruby and Archie also shows us some of the different attitudes to some aspects of life then. Ruby and Archie got engaged in August 1913 but not everyone was happy about it. So they waited until 1919 to be married to respect Ruby's parents' wishes. During those six years Archie re-enlisted in the military after being discharged and deemed medically unfit for duty after having had rheumatic fever. We would never have known about this couple and events that took place during their lifetime if it wasn't for the fact that they wrote to each other and more importantly that someone kept these little written social history snippets.
I have to agree with Abraham Lincoln when he said:
"If you want your name to be remembered after your death either do something worth writing or write something worth reading"
Which is why I have started sending postcards to my children. I try and include something that will not only tell them what I'm up to and how proud of them I am, but also something that will give the post card context within our own social history. I don't know if at some point in the future someone like me will look at them as a social history extract and wonder why this person was sending postcards while the majority of the population was texting, emailing, snapping, messaging and skyping.
The bonus "cherry on top" is receiving a card in return with a lovely message from your child. Opening the letterbox and there is actual mail in there is so worth the effort.
By Natascha Hartzuiker
Rotorua Museum Collection Support
[i] Sandi Black, Archivist, Whanganui Regional Museum. Archives as Objects: Archie and Ruby, A Case Study.2015

For more blogs visit www.rotoruamuseum.co.nz/blogs