Projects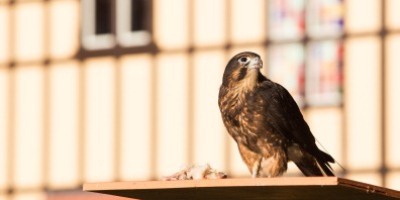 On The Wing – Urban Release of the New Zealand falcon
New Zealand's first ever urban release of a threatened species took place from Rotorua Museum on 2 January 2014.
Rotorua Museum and Wingspan, the National Bird of Prey Centre, worked together on this award-winning project which saw three New Zealand falcon chicks (kārearea) released from a 'hack' box located high on the Museum roof.
Visitors from all over New Zealand and the world have enjoyed many falcon antics, as the juvenile birds have learnt to fly and hunt for their own food. The three kārearea were named Hatupatu, Tama and Te Rangi Rere I Waho (Maureen), all names that have a strong link to Rotorua and Te Arawa.
Rotorua Museum and Wingspan released a second clutch of chicks in late 2014, named Maia and Kurangaituku and a third release, Ihenga and Hine-o-te-Rangi, January 2016.
Hatupatu from our first release and Maia from our second have now successfully raised 6 chicks in the wild and continue to visit the gardens and the feeding platform several times each day.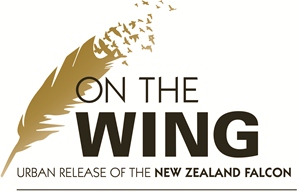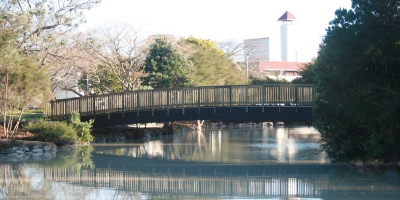 Memorial Bridge – WW1 Commemorations
Marking 100 years since Britain declared war on Germany in 1914, the Memorial Bridge over Sulphur Lake in Rotorua's Government Gardens was officially opened at a public ceremony on 5 August 2014.
The location of the bridge in Government Gardens, previously known as Sanatorium Reserve, has a strong connection to World War One. The land was gifted to the Crown by Ngāti Whakaue in 1880 "for the benefit of the people of the world – hei oranga mō ngā iwi katoa o te Ao."
The first Sanatorium Hospital opened in 1886 adjacent to Sulphur Lake, and the Bath House – now home to Rotorua Museum – opened in 1908. Both were used as part of an holistic treatment regime which combined physical and psychological therapy for soldiers returning from the war.
Soldiers from King George V Soldiers' Convalescent Home on Pukeroa Hill, where Rotorua Hospital now stands, were also treated. In 1916 an average of 63 military patients were receiving balneological (bathing) treatments each day.

The healing geothermal waters and the beautiful, peaceful surroundings of the gardens played a significant role in this treatment, becoming part of the soldiers' recuperation and healing journey. A century ago, convalescing returned soldiers would have walked the perimeter of this tranquil lake – originally created to provide an area of picturesque serenity and contemplation to assist in the healing process.
Memorial Bridge, recycled and rebuilt from a footbridge originally spanning the city's Utuhina Stream, will also become part of a new sculpture trail linking key city attractions, including Rotorua Museum, Blue Baths, Rotorua Arts Village and Polynesian Spa.
More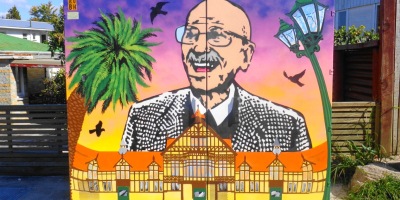 Community Arts
Rotorua District Council's Community Arts Advisor, Marc Spijkerbosch, organises a great programme of annual community arts events each year. Recent and regular events include:
Music at the Rotunda – weekends in February & March each year
Children's Day at the Redwoods – March each year
Chorus Cabinets around Rotorua
NZ Music Month – May each year
Memorial Bridge – opened 5 August 2014
CBD Murals and Sculptures around the city
Sulphur Lake Sculpture Trail – opened November 2014
Airport Murals
Art exhibitions in the Galleria at Rotorua Lakes Council
For further information about any of these projects check out the Creative Rotorua website or contact:
Marc Spijkerbosch
07 351 8154
Email