Pink & White Terraces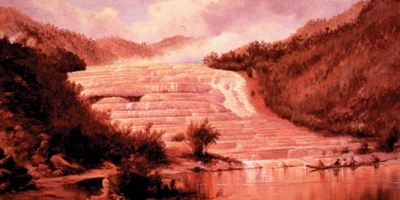 Early Tourism
The Pink and White Terraces were situated near Mount Tarawera, on the shores of Lake Rotomahana's warm, silica-rich waters.
During the mid 1800s people from all over the world came to see the spectacular terraces, cascading into the lake.
Visitors travelled by steamer to Tauranga before taking a bridle track to the Māori village of Ohinemutu on the shores of Lake Rotorua. From there they took a coach trip to Te Wairoa, followed by a two-hour canoe journey and a walk over the narrow isthmus separating Lake Rotomahana from Lake Tarawera, before finally reaching the famous terraces.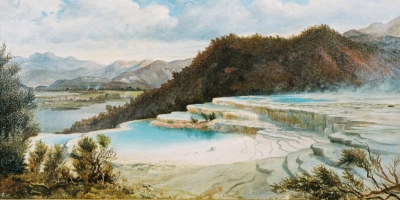 Pink and White Terraces
Te Tarata (the tattooed rock) or the White Terrace was the larger of the two terraces. Covering about three hectares, it tumbled to the lake from a height of 30 metres, fanning to a width of around 240 metres at the bottom.
The terraces of Ō-tū-kapua-rangi (fountain of the clouded sky) or the Pink Terrace, were smaller and lower. Steps gradually ascended to a crater platform where three metre-deep basins were filled with clear blue, luke warm water, making superb bathing places.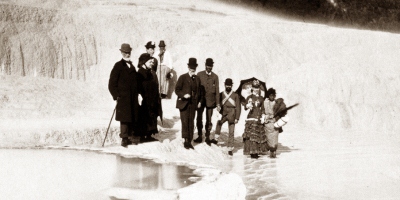 Captured for Prosperity
Victorian travellers recorded their experiences of the Terraces in a rich legacy of art, photographs and words.
Writer Anthony Trollope enjoyed a bath in one of the pools of the Pink Terrace in 1874: "In the bath, when you strike your chest against it, it is soft to the touch, you press yourself against it and it is smooth…..The baths are shell-like in shape, like vast open shells, the walls of which are concave and the lips ornamented in a thousand forms."
Views of the Terraces were captured by photographers such as John Kinder, Alfred Burton, Charles Spencer and Josiah Martin. They recorded the fragile wonders with the heavy cumbersome gear of plate photography. Click here to view images of the Terraces in the Rotorua Museum online collection
In 1885 Charles Blomfield the 'artist of the terraces' pitched camp on the edge of Lake Rotomahana and worked to capture images on canvas.
More