Government Gardens – Paepaehakumanu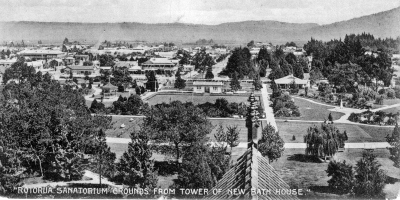 A Generous Gift
In 1880, the local Ngāti Whakaue people gifted 50 acres of land to the crown, as part of the Fenton agreement that led to the establishment of the town of Rotorua Hei oranga mō ngā iwi katoa o te Ao – For the benefit of the people of the world.
Following ratification of the original gift in 1883, the reserve was vested in the Government of New Zealand in 1898 as an area where the thermal waters could be used and promoted as a health spa, similar to those in Europe.

Originally the land was covered in scrub with a number of hot pools, springs and mud-holes. Once cleared, recreational gardens were planted for the relaxation and amusement of tourists and convalescing patients. Several large trees still remain from those early days, including multi-trunked Japanese firs and an unusual Californian weeping redwood.
Camille Malfroy, an early advocate of the development of the Rotorua Spa, was responsible for the creation of the Gardens in the early 1890s.
More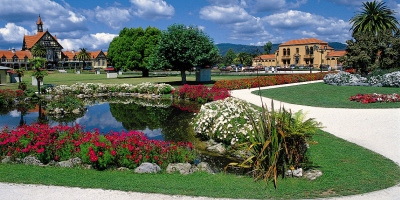 Council Gardens for all to enjoy
Originally known as Paepaehakumanu Motutara, today Government Gardens include facilities for bowls, croquet, petanque and golf.
There are many points of interest including the Arawa Soldiers Memorial, geothermal features including the Rachael Spring and Malfroy geyser and a number of buildings of historic interest.
Rotorua District Council also operates a nursery in the Gardens, supplying flowers, shrubs and trees for the many public gardens and reserves around the district.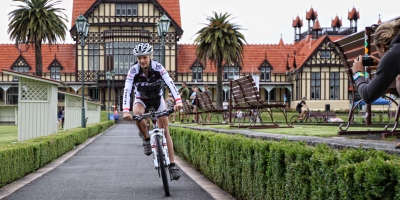 Places of Interest
Rotorua Museum, the Blue Baths, the Klamath Falls Rose Gardens, Te Runanga Tearooms and Band Rotunda are all located in the Government Gardens.
Klamath Falls Rose Gardens
These rose gardens are situated on Queens Drive and are named after Klamath Falls in Oregon, North America – a sister city to Rotorua. Roses are in bloom from mid-November to June and are at their best during the summer months.

Te Runanga Tea House
Te Rūnanga (The Meeting House) was built in 1903 and was originally intended to be a tea pavilion. It served as a social centre of spa facilities where tourists could relax and drink mineral waters from the local springs.
Band Rotunda
Situated adjacent to Te Rūnanga Tea House is the Band Rotunda. This was built in 1900 overlooking the bowling greens before being shifted to its current location.
Blue Baths
Originally built in 1885, the Blue Baths included a large open air swimming pool, enclosed by a concrete wall. The current building opened in 1933, after the first baths were demolished, and is one of the finest examples of art deco architecture in New Zealand. It still includes a large open air swimming pool, some smaller spa pools, and a range of function rooms.
More